Clara Haili was born on October 28, 1901 in Honolulu. Clara first sang in her church choir and loved to dance the hula despite her mother's objections. In 1930, she married Theodore Inter.

Clara began teaching at Waipahu Elementary in 1923. Though she taught English, social studies and math, her real love was teaching music and many of her students remembered her with great fondness. After years of entertaining her students with her comic and naughty hulas, Clara turned professional in 1936 when she entertained with the Royal Hawaiian Girls Glee Club. They sang at the Royal Hawaiian Hotel and the Waialae Country Club. She performed occasionally for the then-new Kodak Hula Show. But the turning point was when she went to a teachers' convention in Portland, Oregon. During a program of entertainment on the ship home, she first performed Don McDiarmid's new song, 'When Hilo Hattie Does the Hilo Hop.'


McDiarmid had a much more sultry dancer in mind when he wrote the song, and he was conducting the Royal Hawaiian Hotel orchestra when a dancer fell ill and Clara performed the song in her inimitable comic style. He was astounded when the audience loved Clara's interpretation. Clara legally took the name Hilo Hattie at the insistance of Harry Owens when she performed in the 1941 film Song of the Islands. Unfortunately, she doesn't perform her signature song in the movie, only a shortened version of 'The Cockeyed Mayor of Kaunakakai.'

The photo at right is captioned "OFF TO MAINLAND" - Clara Inter, Hawaii's well known character dancer, who sailed yesterday with Al Perry's Singing Surfriders for a two months' tour of the Mainland. The artist was given an aloha party last night at Waialae. The clipping is marked "A [Honolulu Advertiser], 5-28-38.

Clara continued to teach school while performing at night, when the National Shriners' convention put her at the top of their list of entertainers in 1938 in Los Angeles. Clara and Al Kealoha Perry and his Singing Surfriders entertained all over Los Angeles. Clara's next mainland trip was in 1939, when she performed at the St. Regis Hotel in New York. After a sold out engagement, and a triumphant return home, Clara was informed by the Board of Education for the Territory that she must choose between teaching and performing. She gave in gracefully and decided to go back to school herself to get her teaching degree.

But the war was coming and in 1940, Harry Owens took over the baton at the Royal, and immediately hired Clara. He took her to Los Angeles, and got her in the movies. She did her small part and played engagements at various Southern California hotels. They were about to head home to Hawaii when war broke out. Harry and Clara were asked to entertain at the St. Francis Hotel in San Francisco, where many sailors were departing for the Pacific. During this time, they did many benefit shows for the Red Cross, USO and hospitals. This gig turned into an annual 26-week engagement, with the troupe spending the rest of the time on the road, entertaining at big hotels and military bases.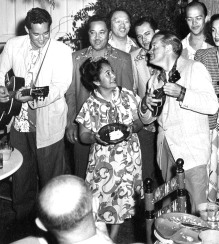 The Owens/Hilo Hattie show had been broadcast on the radio, and when the war ended, Clara became a disc jockey for Honolulu radio station KPOA. Harry Owens had a television program and Clara became a regular on the Hawaiian music show in 1949. The show ran for nine years. She also appeared on a number of variety shows and did several non-musical stints on Hawaii Five-O.

During the late 1940s and 50s, many hotels had Hawaiian-themed show rooms and Clara played them all, criscrossing the country year after year. Clara had divorced Inter in 1946 and in 1950, married bandleader Carlyle Nelson. Finally, after years on the road, Clara returned to Hawaii and the Tapa Room at the Hawaiian Village in 1960, where she recorded her first live album. Engagements followed at the Ilikai's Canoe House, the Halekulani, the Kahala Hilton, the Royal and Moana. She made another live album, and continued performing until 1977.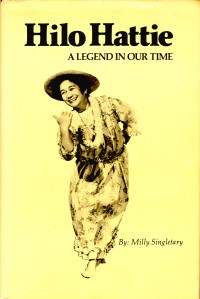 In 1971, while attending the Merry Monarch festival in Hilo, Clara was approached by Evelyn and Richard Margolis and entered into an agreement for them to design and sell a line of 'Hilo Hattie' clothing. They eventually expanded the business, and the store is now a major tourist destination.

Clara was honored with many awards, some silly. In 1969 a new hybid orchid was named for her, and in 1970, the Hawaiian Music Foundation gave her the Hawaii Aloha Award. She was honored with a benefit by the March of Dimes in 1971, and three years later was paid tribute by the government. She and her husband spent their last years in their home in Kaaawa. She passed away shortly after her biography was published, in 1979.

BIOGRAPHY:
Milly Singletary, Hilo Hattie: A Legend in Our Time (1979), MFS, Honolulu.

RECORDINGS:
HILO HATTIE (Decca 194), 3 78s (1939)
HARRY OWENS with HILO HATTIE (Columbia 6030) EP (c. 1950s)
HILO HATTIE AT THE HAWAIIAN VILLAGE (1962)
HILO HATTIE - MY HAWAII (Hui Records H-100) (c. 1974)
HILO HATTIE WITH THE HAWAIIAN VILLAGE SERENADERS (RCA Victor LPM-3442) (1976)
And various 78s and 45s with Harry Owens or Hawaii Calls.