HAWAIIAN WAR CHANT

© 1936
English Lyrics: Ralph Freed, Music: Johnny Noble and Leleiohaku

Interpolated into the 1942 film Ship Ahoy, starring Eleanor Powell, Red Skelton and the Tommy Dorsey Band.

The copyright date is for the song in its modern form. George Kanahele says it was composed by Johnny Noble but that he borrowed the melody from Prince Leleiohaku's 1860 song, "Kaua i ka Huahua'i" ("We Two in the Spray"). Translation of that verse is:

We two in the spray
Oh joy two together
Embracing tightly in the coolness
Breathing deep of palai fern.

Kanahele also notes that Noble left the original Hawaiian lyrics as they were, including the use of a 't' instead of a 'k' which was common in ancient Hawaiian as well as Tahitian, but made the tempo dramatically faster. Harry Owens wrote his own version to the same melody, called "The Laughing Song" but it never caught on while Noble's version was a huge success.

Hilo Hattie used to perform it in three speeds in her shows, saying the Prince wrote it about two palace lovers who met in secret, and she credited Spike Jones with popularizing the super fast version which was popular in the sixties. The song is not often performed today, except in the Waikiki hotels which feature Hawaiian music, where it remains a very popular request.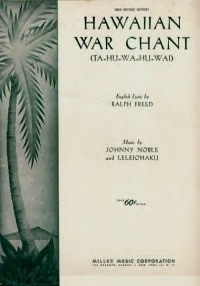 Sheet Music: In Miller Music's Songs of Hawaii (1950)


Recordings:
CD: Numerous

There's a sunny little, funny little melody
That was started by a native down in Waikiki
He would gather a crowd down beside the sea
And together they'd play his gay Hawaiin Chant

Soon the other little natives started singin' it
And the hula hula maidens starting swingin' it
Like a tropical storm that's the way it hit
Funny little gay Hawaiian chant

Ow way tah
Tualan
Me big bad
Fightin' man

Tho it started on an island down Hawaii way
It's as popular in Tennessee or Ioway
If you wander into any cabaret
You will hear this gay Hawaiian chant

Ow way tah
Tualan
Me big bad
Fightin' man


Tahuwai la a tahuwai wai la
Ehu hene la a pili koo lua la
Pututui lu a ite toe la
Hanu lipo ita paalai

Tahuwai la a tahuwai wai la
Ehu hene la a pili koo lua la
Pututui lu a ite toe la
Hanu lipo ita paalai

Au we ta huala
Au we ta huala

Tahuwai la a tahuwai wai la
Ehu hene la a pili koo lua la
Pututui lu a ite toe la
Hanu lipo ita paalai

Tahuwai la a tahuwai wai la
Ehu hene la a pili koo lua la
Pututui lu a ite toe la
Hanu lipo ita paalai

Au we ta huala
Au we ta huala




---

Click on the first letter of song title for index





---

Website ©2002, designed and maintained by