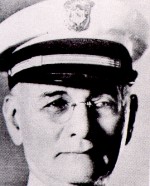 CHAS. E. KING
Charles Edward King was born in Honolulu January 29, 1874. As a composer, publisher and bandleader, he probably did more than anyone to extend Hawaiian music beyond Hawaii's shores. He composed songs with both Hawaiian and English lyrics, but they cannot be classified as hapa haole songs; in fact, he decried the compositions of Sonny Cunha and Johnny Noble, feeling their songs compromised Hawaiian music styles by introducing too much of Tin Pan Alley into their compositions, and called this trend 'silly.'

He wrote many standards, including 'Na Lei O Hawaii,' the fight song for his alma mater, 'Imua Kamehameha.'

Though only a quarter Hawaiian, Queen Emma was his godmother and he learned music from Queen Liliuokalani. He was fluent in both Hawaiian and English, and his work carried on the tradition of the royal composers.

His battle with hapa haole music continued to his death in 1950. According to George Kanahele, he 'disdained attempts to speed up the tempo of Hawaiian music. He attacked nearly everyone associated with the Hawaii Calls radio program for 'murdering' Hawaiian music by 'pepping up' native songs that were meand to be sung or played slowly or in hula tempo.' King's Book of Hawaiian Melodies was first published in 1920, and reprinted many times. He conducted the Royal Hawaiian Band for three years and wrote the only Hawaiian-language opera, Prince of Hawaii. King was not as stiff or dogmatic as he sounds. He did compose several songs which nearly fit Kanahele's definition of hapa haole music, including 'Honolulu Maids' and 'Pidgen English Hula,' which captures the then mostly Chinese version of Pidgen.

He made a series of television tapes in the 1940s with Hawaiian musicians, which were widely distributed, and wrote a song 'Television Hula' in his latter years. He also made vast numbers of recordings. King lived long, but didn't start composing until he was in his 40s.