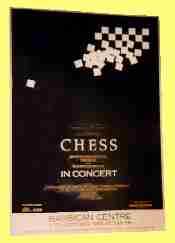 CHESS IN CONCERT
London, Paris, Amsterdam, Hamburg and Sweden
The first concert version of Chess was the first of the five European concerts which introduced the Concept Album. It took place with all the artists from the recording at the Barbican Centre in London on 27 October 1984 before a sold-out and eventually wildly enthusiastic audience. This was repeated the next night at La Salle Playtel in Paris, then the Concertgebouw in Amsterdam, CCH Hamburg and ending at the Berwaldhallen in Stockholm.
Carnegie Hall
The next major concert was organized 9 January 1989 by David Carroll (Anatoly in the Broadway production) as a benefit concert in Carnegie Hall. Again, the house sold out and again, the audience was thrilled. But this was unique since the entire original company (except two ensemble members) came from all over the world to perform the songs from the show that had failed at the Imperial Theatre less than a year before. But the music, freed from the dreary sets and dialogue, proved to be as potent as always.
The Swedish Concerts
Over the years, starting after the London production closed, Chess has been staged in concert in Sweden. Thanks to David Polberger in Sweden, the following history is translated from the most recent concert's programme: "When the chess tournament was settled in Skelletftea of Sweden in the fall of 1989, Chess in Concert was once again performed in Sweden [for the first time since the Concept Album was introduced]. Three sold out concerts, over 10,000 people in the audience and it was recorded for TV. All that because one enthusiastic theatre director thought that 'a chess tournament requires Chess.'"

"The success gave the concert a [new life]..." and cities all over Sweden clammored for Chess In Concert. "The same solo artists and the same pop choir have performed at every concert. Only the big orchestra and the big choir have changed. And that has become part of the whole idea, that the same group of people will always perform Chess."

"Someone has estimated that over 2 million people have seen Chess, either as a musical or as a concert. In June 1998, "30 thousand people were added to this number when Tommy, Karin, Anders and the others perform[ed] in Gothenburg, Helsingborg, Stockholm and Skokloster accompanied by the Gothenburg Symphony Orchestra."

"The first time this ensemble performed Chess together was in August of 1994." The Swedish Gothenburg Symphony Orchestra was ready to launch a new concert hall in Eriksberg--a former docklands area--and chose Chess as its opening attraction. This series of now-legendary concerts inaugurated more than a new building. They became an annual event, held in Gothenburg each June. The August 1994 concert was recorded and its CD remains available in many countries. Tommy Körberg recreates his role as Anatoly, with Anders and Karin Glenmark (Swedish recording artists who did vocals on the original Concept Album) as Freddie and Florence and original, London and Broadway orchestrator Anders Eljas at the podium as conductor. Benny Andersson played both piano and accordian for the concert. "'Our music cannot sound better than this,' said Benny Andersson" after the initial 1994 concerts.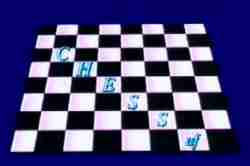 Denmark
In 1991 a Chess concert was performed (in English) in Denmark and broadcast on Danish television (with subtitles). It was the Concept Album lyrics and arrangements with "Someone Else's Story" from Broadway interpolated. Ms. Renihan (who had changed the spelling of her name to more reflect its pronunciation) had, of course, played Florence for more than a year at the Prince Edward in London. The other artists are all truly excellent.

Florence.................Grania Renihan
Freddie..................Derek Chessor
Anatoly..................Kurt Ravn
Molokov..................Ulrik Cold
Svetlana.................Yvonne Ritz Anderson
The Arbiter..............Allan Mortensen

MUSICAL NUMBERS Merano What a Scene, What a Joy The Russian and Molokov/Where I Want to Be The Arbiter's Song The American and Florence/Nobody's Side Anthem Someone Else's Story Bangkok/One Night in Bangkok Argument I Know Him So Well Pity the Child You and I
Chess in Concert
On April 12, 1992, Chess in Concert was staged at the Royal Alexandra Theatre in Toronto, Canada to benefit Equity Fights Aids/Actors Fund of Canada (netting over $80,000 for the cause).
Keith Batten & Eric Goldstein present
Chess in Concert

CAST
The actors (all superb) came from then currently-running Toronto productions of Aspects of Love, Les Miserables and Phantom of the Opera.
(in alphabetical order)
Gregor Vassy.....................MICHAEL BURGESS (Jean Valjean in Les Miserables)
Florence Vassy.................SUSAN GILMOUR (Fantine in Les Miserables)
Svetlana Sergievsky...........KELLI JAMES (Giulietta Trapani in Aspects of Love)
Anatoly Sergievsky............ROBERT LONGO (Jean Prouvaire in Les Miserables)
Freddie Trumper................ROB LOREY (Aspects of Love)
Molokov...........................GORDON McLAREN (Inspector Javert in Les Miserables)
Walter..............................DAVID MUCCI (Les Miserables)
The Arbiter.......................JAY TURVEY (Feuilly in Les Miserables)
Guest Artist......................COLM WILKINSON (The Phantom in The Phantom of the Opera)
COMPANY: Lori Alter, Lisa Atkinson, Virginia Barter, Elizabeth Beeler, Sheena Bellingham, Pierre Bénard, Mark Bernkoff, Robin Blake, Scott Bolton, John Burke, Rod Campbell, Dan Chameroy, Bruce Clayton, Isabelle Corradi, Devin Dalton, Natasha Danchenko, Christine Donato, Dewi Fairclough, Catriona Ferguson, Lisa Forget, Tracy Goltsman, Maryke Hendrikse, Kevin Hicks, Kymberley Huffman, Cara Hunter, Gabrielle Jones, Donna Kelly, Mark Kelso, Glen Kerr, Philip Kerr, Doug LaBrecque, Pierre Ladouceur, Sylvain Landry, Wendy Lands, Karlisa Lindbjerg, Rhonda Liss, Daniel MacDonell, Doug MacNaughton, Tim Magwood, Janet Martin, Sharron Matthews, Darren McCaffery, Anne Mirvish, Eve Montpetit, Frank Moore, Paul Mulloy, David Nairn, Robert Pilon, David Playfair, Jennifer Potter, Jennifer Rockett, Kate Rodrigues, Jasmine Roy, Donna Rubin, Fernando Santos, Andrea Sherwood, Christopher Shyer, Barbara Smith, Christy Taylor, Bruce Thompson, Susan Wesson, Jessica Wilson.

MUSICAL NUMBERS
Overture/The Story of Chess/Apukad (Budapest, Broadway Version)
What a Scene, What a Joy (Bangkok, Broadway version)
Reporters/Smile You Got Your First Exclusive Story (London version)
Molokov and Anatoly/Where I Want to Be (London version)
How Many Women? (Broadway version)
The Arbiter's Song (London version
U.S. vs. U.S.S.R. (Broadway version)
Quartet (London version)
Someone Else's Story (Broadway version)
One Night in Bangkok Terrace Duet (Broadway version)
Chess (instrumental - London version)
So You Got What You Want/Nobody's Side (Broadway version
Reporters/Anthem (Broadway version)
Entr'act/Hungarian Folk Song (Budapest - Broadway version)
Heaven Help My Heart
No Contest (Broadway version)
You and I (Broadway version)
Let's Work Together (Broadway version)
I Know Him So Well
Pity the Child
Chorus of Champions (London version)
Endgame (Broadway version)
You and I (Broadway version)
Apukad (Broadway/Chicago version)
Finale/Anthem (Colm Wilkinson and company)

Comments
There were no sets, but a rear projection added some visual interest with scenes from the Hungarian Revolution, chess games, and other chess-related images. The concert was broadcast on Canadian television. The cast sang and acted in front of a full orchestra, in costume. Several dancers were used for "One Night in Bangkok." The progress of the chess match was illustrated by projected newspaper headlines. As can be seen below, material was drawn from several versions and there were a few oddities: the Arbiter sang a stanza not used since the first weeks of the London production ("Donít try to tempt me/Youíve no hope/I donít like women/I donít take dope...") which made little sense as the character was played as on Broadway, not as in London. However, as with all concert versions, the reception for this one was rapturous.




Broadway Cares/Equity Fights Aids New York Concerts Neil Berg and Robert Evan
in association with
Eric Krebs, Joseph Grano, Jr. and Overland Entertainment
present
A Benefit Concert for Broadway Cares/Equity Fights Aids
CHESS

Since Chess closed on Broadway, there have been many regional productions of the musical, some staged or semi-staged. But a great deal of attention was focused on a recent pair of Chess in Concert benefit performances because many of the participants were concurrently starring in Broadway musicals. Presented on two Sunday nights (10 and 17 May 1998), many of the performers literally ran from their curtain calls to the John Houseman Theatre and onto its stage.

The superb logo designed exclusively for these concerts was created by James Marino and is &copy 1998 Bucket-A-Fish and is used by permission.

The cast was stellar: Robert Evan, Christiane Noll and Raymond Jaramillo McLeod are were starring in Jekyll and Hyde. Michael Cerveris and Brian D'Arcy James came from starring roles in Titanic, Dave Clemmons from The Scarlet Pimpernel, Alice Ripley from Side Show and Danny Zolli, a veteran of dozens of productions of Jesus Christ Superstar. Most of the ensemble also came directly from Broadway's stages.

CAST
Narrator.............MICHAEL CERVERIS
Freddie (17 May).....DAVE CLEMMONS
Freddie (10 May).....BRIAN D'ARCY JAMES
Anatoly..............ROBERT EVAN
Molokov..............RAYMOND JARAMILLO McLEOD
Florence.............CHRISTIANE NOLL
Svetlana.............ALICE RIPLEY
The Arbiter.......DANNY ZOLLI
WITH Bill E. Dietrich, Jennifer Little, Robert Longo, Michelle Mallardi, Michael Messer, Kevyn Morrow, Brad Oscar, Trevor Richardson, Jeri Sager, Douglas Storm, Kay Story, Eileen Tepper, Allyson Tucker, Laura Voss.

Directed by Philip Hoffman
Musical Direction Neil Berg
Choral Direction Wendy Bobbitt
Executive Producer Bruce Roberts
Production Supervisor Caralyn Spector
Production Stage Manager Babette Roberts
Assistant Stage Manager Suzie Tucker
Production Assistant Linda Russak
Marketing BB Theatrical Promotions and Jennifer Hall

MUSICAL NUMBERS:
Merano
What a Scene, What a Joy
Where I Want to Be
The Arbiter's Song/US vs USSR
Quartet
You Wanna Lose Your Only Friend
Someone Else's Story
Mountain Duet
So You Got What You Want
Nobody's Side
Embassy Lament
Anthem
One Night in Bangkok
Heaven Help My Heart
You and I
I Know Him So Well
The Story of Chess
Hymn to Chess
The Deal
Pity the Child
Endgame
You and I

This concert also added a Narrator and a number of the London production's songs were used including "Merano," "Embassy Lament" and "The Arbiter's Song." Svetlana was given Broadway's "Someone Else's Story" as well as "Heaven Help My Heart." The concerts sold out well in advance and the ecstatic audience cheered every number, especially "The Arbiter's Song" and "Pity the Child." There was a great deal of discussion in the lobby afterwards that it was definitely time for a major revial of Chess.